Dear Evonians,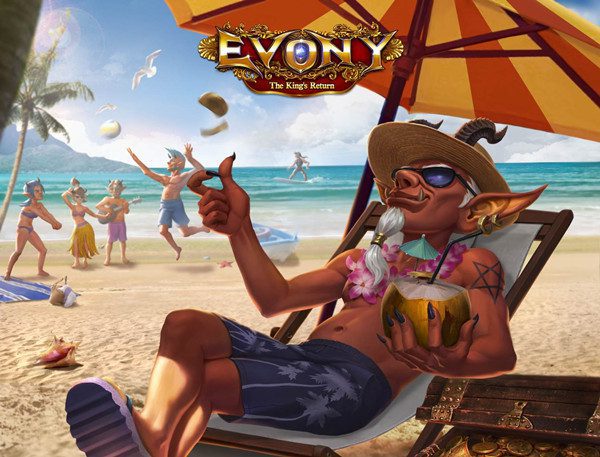 Package Sale with 56,000% Value!
There is also a chance to receive Epic Historic
General
John Churchill from the 5th package tier, as well as Lv5 Optional Chest, Barbarian King's Token,
Badges
and
Lv7 Premium Gear Chest
(Glory Medal)!
King's Party Event!
During the event, players can gain the
Party Cake
's experience by purchasing basic Gems, upgrading the Party Cake's level will gain awesome gifts!
Barbarians Invasion Event!
During the event, players can defeat Barbarians' castle on the world map and get
rewards
.
Players can use Barbarian King's Tokens to locate Coordinates of Barbarians Palaces and earn massive scores!
Journey to Glory Event!
The journey to Glory event begins on March 17th. The rewards are divided into 8 common options and 4 limited options. If you manage to collect all 4 limited rewards, you'll automatically receive any remaining common rewards.
You can acquire
Knight Coins
by defeating monsters, occupying
Resource
Spots, or purchasing packages. There is a daily limit to the number of Knight Coins you can obtain from monsters and Resource Spots.
Don't miss out on the opportunity to purchase Knight's Triumph Sale. The package contains a Knight's Triumph General Chest. Open the chest to randomly receive one of the following Generals: Hammurabi, Elektra, Charles XII, Zhao Yun, Wallenstein, Martinus,
Menshikov
and Elise.
Super Feeding Event!
During the event time, players can get Feeding Scores by feeding Dragons. Use Scores to redeem rare items, including
Excellent Dragon Coins
. Purchasing an event package will give you massive Excellent Dragon Coins for upgrading dragons!
Excellent Dragon Coins 100% appear in
Recipes
for each refreshing.
Historic General Summoning Event!
Epic Historic General John Churchill is guaranteed within each 6 summons.
Historic City Searching Event!
During the event time, players have a chance to receive Subordinate City
Clues
from monsters, Resource Gathering and purchasing packages. Put it in the Pool to gain a chance to get the Subordinate City Key. Use the Subordinate City Key to get a Subordinate City's Coordinates. Massive Epic and Legendary
Subordinate Cities
are waiting for you!
Other Events:
We also prepared other great events such as Daily Login Rewards, Consume to Earn Awesome Rewards (Gems and Resources), Auction House, Dwarf's Lucky Apple, Crazy Eggs, Gather Troops, King's Path, Golem Challenge, Cerberus's Treasure, Lucky Composing, Resource Tax Gift, Gathering Event, Knight's Treasure and Golden Goblin!
Please update to the latest version if you cannot view the event.
Best regards,
Evony Team