In the first half of this year, Evony won the "NYX Silver Award In the 2022 NYX Game Awards Season 1 cycle,". After winning the award, David  Guo was invited to an interview to talk about the reason to devote himself to game development, the company's development philosophy, and mission drive, as well as his views on the development of the game industry.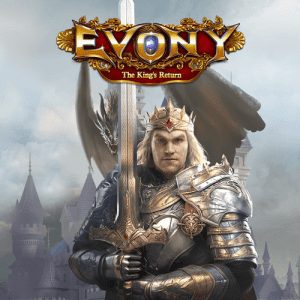 Top Games Inc. ranks as the #9 overall grossing RPG company in the United States, according to tracking records from data.ai, with June marking the first time the company has entered the Top 10 of highest-grossing developers on the AppStore and Google Play. Recently, Sensor Tower, a mobile app data provider, reports a significant growth in the net revenue of "Evony: The King's Return" in 2022. The worldwide net revenue reached a staggering $385,751,902, a 1.5 times increase from 2021's revenue of $221,676,485.
CEO David Guo leads our team that is user-oriented and driven to improve the player experience. Evony has got great success and has been honored with several good rankings not only in the app market but also in many industry awards.
Here's a look at the core questions from the interview and David Guo's views on them.
David Guo: "I am a game player myself. In 2009, I found that many game companies don't care about user experience and customer satisfaction. That's the reason I joined Top Games Inc. Top Games focuses on providing top-tier player experiences and services."
"We design games from the player's perspective. Noting that players not only make many friends but also live out portions of their lives in games, we aimed to create the best gaming experience possible and to cultivate long-lasting gaming communities that would continually enhance that experience."
What is your role in the company?
David Guo: "Although my title is Top Games CEO, I am basically in charge of all essential Top Games departments. To achieve success in each respective role, I firmly believe every TGI employee should testify quickly and implement even faster. There's no specific method for achieving success right away. This is why we test our products or services over and over again to implement the best option and to scale up as quickly as possible. With efficient execution and attention to detail, we are delighted to have launched the Hit game ' Evony' that is enjoyable for our users."
As the NYX Game Awards winner, what does it mean for you and your team to receive this distinction?
David Guo: "It is a great honor to receive this award! My team and I are so excited about this news. We will immediately share this news through social media profiles like Twitter and Facebook. We are so thankful for our lovely players and our developer teams. Without their ongoing support, we couldn't have made it through all these challenges or have achieved such an amazing level of success."
What are the challenges of developing?
David Guo: "The biggest challenge for our development team is creating games people will continually turn to and enjoy well into the future. We developed the Evony title more than a decade ago. We are constantly adding new features and elements to provide players with a better gaming experience."
Where do you see the evolution of the gaming industry in the next 5-10 years?
David Guo: "The competition will increase substantially. Only the highest-quality and most user-oriented games will survive. At the same time, there will likely be a technological revolution. I expect VR could become the mainstream technology in the next decade."
Long-term foresight is one of the keys to success
In the mid-2010s, CEO David Guo could see that video games were no longer limited to desktops. More and more people were beginning to enjoy them on their mobile devices. Top Games offered a calibrated platform where players could enjoy lifelike images without the lag. This twist plus the breakout success of Evony proved to be beneficial for its popularity and, ultimately, its annual revenue.
As gamers evolve based on new technology and companies in the market, Top Games will continue to evolve as well. From e-sports characters to additional gifts, the company looks for ways to keep players returning for more.
From the interview, we can also see that the success of a hit game or the success of a game development company cannot be separated from a properly established mission and value orientation, and we aimed to create the best gaming experience possible and bring fun for every player.