Dear Evonians,
To thank you for your support and love for Evony, we will have a series of exciting
Civilization Celebration
events from
October 10th to 12th
!
Wheel of Civilization Event
You can get Noble Coins from Monsters, Resource Spots, and Wheel of Civilization Packages.
Any remaining Noble Coins will be converted into Noble Coin Chests after the event ends.
General Portrait Exhibition Event
During the event time, players can get General's Invitations from the Server Monarch Competition, Activity Chest, and packages. Use General's Invitations to redeem Historic Generals, resources, and General Hall
Historic General
tokens!
NOTE:
You can view the event interface via Valuable Event -> General Portrait Exhibition.
We've introduced 3 new available Historic General Tokens:
Yasakani no Magatama
Historic General,
Trojan Horse
Historic General, and
Laurel Wreath
Historic General. Once redeemed, you can open them to randomly receive one of the Generals required to unlock the corresponding Art Treasure!
The number of General's Invitations included in the package has been significantly increased!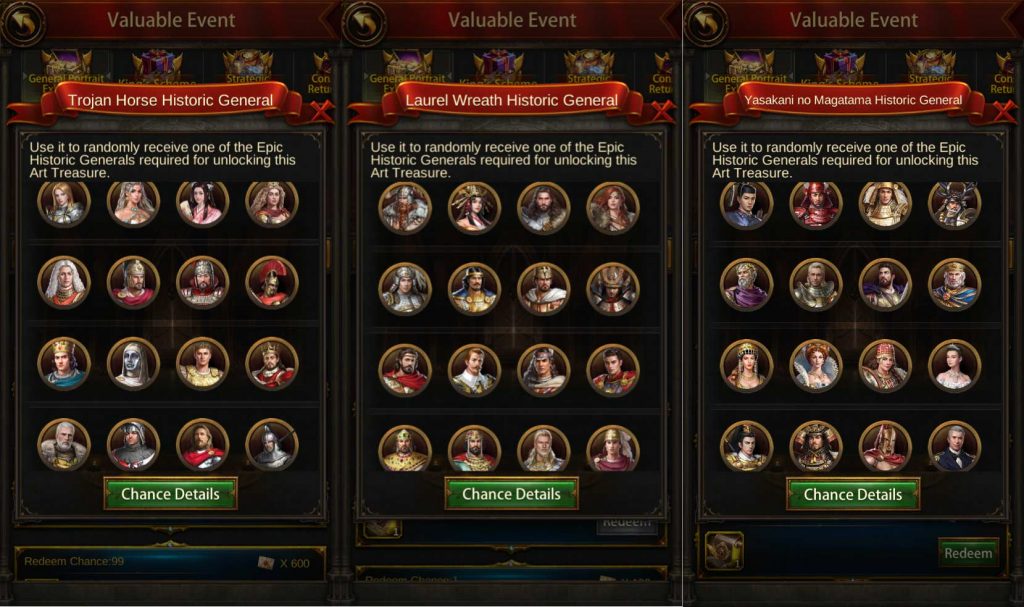 Quest for Treasure Event
Here are the event details for you:
The event will run for a total of 3 days.

During the event, Ancient Treasure Maps can be obtained by purchasing event packages or defeating Boss monsters.

Once you use the Ancient Treasure Map, you'll receive the coordinates of a treasure. Send your troops there to claim rewards.

While searching for treasures, there's a chance to encounter the

Desert Bandit

holding Treasure Clue Fragments. Defeat them, gather all fragments, and you can compose King Solomon's Treasure.

Throughout the event, earn personal and Alliance point rewards by reaching specified points. These rewards will be sent via mail.

At the event's conclusion, personal and Alliance ranking rewards will be sent via mail.

Please note, that all Ancient Treasure Maps will be recalled once the event ends. Ensure they are used promptly.
King's Scheme Event
During the event time, players can get General Mementos from the King's Scheme event sale and redeem a specific General from redeemable ones or Epic Historic General Token of Common, Rare, or Super quality.
In the next round of the event, players can redeem: Caesar, Askia Muhammad I, and Winfield Scott.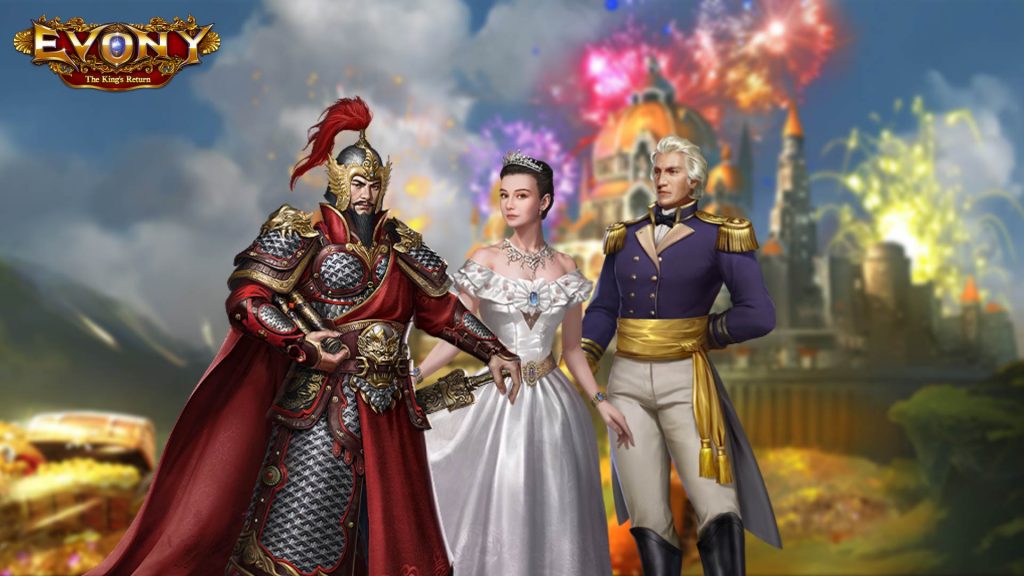 Strategic Stockpile Event
Join Strategic Stockpile Event to get rewards from Gems purchases!
During the event, you will get many rewards by purchasing a certain amount of Basic Gems every day!
The event is reset daily. Please claim your rewards in time.
Golden Refining Event
Join the Golden Refining Event to get rewards!
The Golden Refining Event is open, and great rewards are waiting for you! During the event, you can get many rewards when you complete quests every day!
The event is reset daily. Please claim your rewards in time.
Fragrance Event
Join the
Fragrance
Event to get rewards through Perfume consumption!
The Perfume will allow you to get massive rare items by quest completion. (The event items will disappear 3 days after the event ends. Please use them in time!)
Consuming Return Event
Consume to Earn Awesome Rewards!
There will be a short-term Consuming Return Event, in which players can get awesome rewards by consuming a certain amount of Gold and certain Speedups.
Make sure to update to the latest version of the game to participate in the event.
Best regards,
Evony Team