Dear Evonians,
We plan to release the
Carnival Week
events and packages on August 18th!
Package Sale with 72,000% Value!
There is also a chance to receive the
Epic Historic General Pallas
from the 5th package tier, as well as Pharaoh's Treasure Map, Meteoric Stones, and Lv7 Premium Gear Chest (Globus Cruciger)!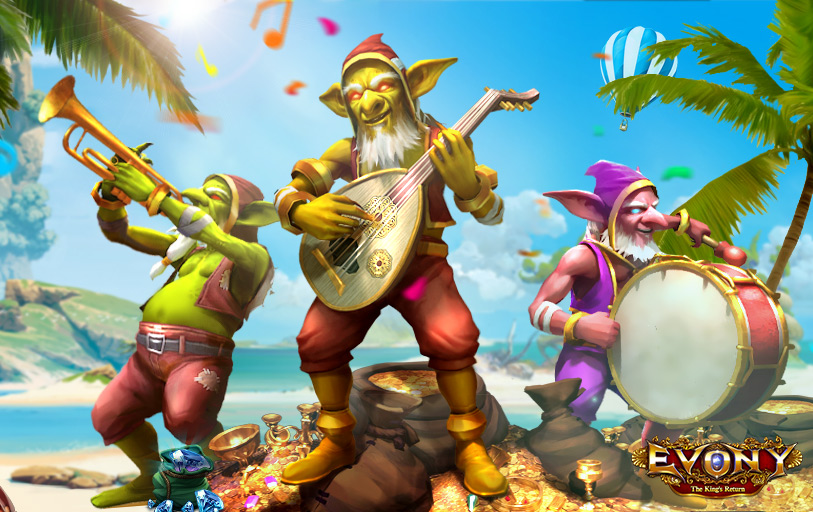 King's Party Event!
During the event time, players can gain the Party Cake's experiences by purchasing basic Gems, upgrading the Party Cake's level will gain awesome gifts!
Players can gain Civilization Scroll Chest (Conquest) at Party Cake level 4.

Players can gain 100 Meteoric Stones at Party Cake level 5.

Players can gain Officer Equipment Scroll Chest (Military) and 200 Meteoric Stones at Party Cake level 8.

Players can gain the new

Epic Historic General Justinian I

, Civilization Scroll Chest (Supremacy), and 300 Meteoric Stones at Party Cake level 10.
Great Expedition Event!
The event will run for 11 days, including 2 preparation days, 8 event days, and 1 display day.
During the preparation period, you can invite friends or recruit teammates to join you on the adventure.
During the display period, exploration is disabled, but you can still redeem or claim rewards on the event page.
You can obtain Expedition Dice by purchasing packages or redeeming them in the shop. Any unused Expedition Dice and Expedition Medals will automatically be converted to Exploration Chests and Expedition Chests after the event.
Trial of Knights Event!
During the event, you can purchase the Knight's Speed Sale to get the Knight's Speed General Chest. Open the chest to get a random General from
Pericles
, Baldwin IV, Constantine the Great, Elise, Ludwig,
John Churchill
, Petronas, and Askia Muhammad I!
You can also get 1 Score for each 1 Blood of Ares consumed and use Scores to redeem for specific rare items or Epic Historic Generals: Elise,
Scipio Africanus
, Ii Naomasa, and Lysander.
Players who rank in the top 50 will receive ranking rewards.
Historic General Summoning Event!
During the event, players can receive Epic Historic General (Glory) from the 5th Event Package tier. Use Epic Historic General (Glory) to summon an Epic Historic General, and there is a higher chance to get the Epic Historic General Pallas!
Pallas is guaranteed within each 6 summons.
Historic City Searching Event!
During the event, players have a chance to receive Subordinate City Clues from Monsters, Resource Gathering, and purchasing packages. Put it in the Pool to gain a chance to get the Subordinate City Key. Use the Subordinate City Key to get a Subordinate City's Coordinates. Massive Epic and Legendary Subordinate Cities are waiting for you!
Treasure Hunt Event!
During the event time, players can explore
Pyramid Ruins
on the world map and get rewards.
Use Pharaoh's Treasure Maps to receive Coordinates of Pyramid Ruins and earn massive scores!
The top 5 players in Personal Score Ranking can receive Castle Decoration, Fort Frost (14 Days).
Other Events:
We also prepared other great events such as Consume to Earn Awesome Rewards (Gems and Speedups), Auction House, Dwarf's Lucky Apple, Crazy Eggs, Gather Troops, King's Path, Lucky Composing, Warlord Challenge, Cerberus's Treasure, Resource Tax Gift, Gathering Event, Knight's Treasure and Golden Goblin!
Please update to the latest version if you cannot view the event.
Best regards,
Evony Team