Dear Evonians,
Regata Storica Package Sale with 72,000% Value
During the event, 5 package tiers every day include
Merit Jade
, Glory Golden Twigs, Forge Master Certificates, Blood Crystals, Subordinate City Clue Chests and Premium Gear Chest (Dagger)!
There is also a chance to receive the new
Epic Historic General Pyrrhus
from the 5th package tier, as well as Barbarian King's Token, Meteoric Stones and Lv7 Premium Gear Chest (Dagger)!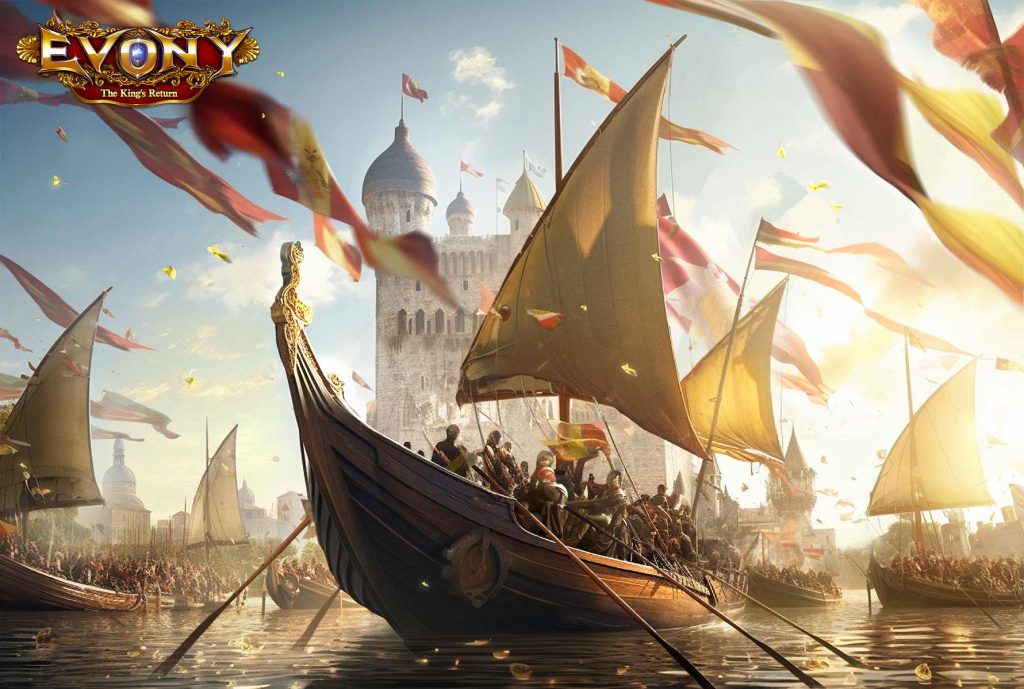 Login Rewards
King's Party Event
During the event time, players can gain the Party Cake's experiences by purchasing basic Gems, upgrading the Party Cake's level will gain awesome gifts!
Players can gain Civilization Scroll Chest (Conquest) at Party Cake level 4.

Players can gain 100 Meteoric Stones at Party Cake level 5.

Players can gain Officer Equipment Scroll Chest (Interior) and 200 Meteoric Stones at Party Cake level 8.
Ocean Master Event
The new Decoration Collection – Ocean Master is here!
During the event time, players can obtain the new castle decoration Ocean Master – Pirate Fortress or Ocean Master – Naval Bay at Party Cake level 10 and the
Rowing Race
march effect from the Decoration Collection Package.
Collect corresponding Decorations in the new Collection to activate Collection!
Journey to Glory Event
To participate in the Journey to Glory event, you can use Knight Coins to win rewards, including up to 2,400 Blood of Ares. These rewards are divided into 8 common categories and 4 limited categories. When you collect all 4 limited rewards, you will receive the remaining rewards automatically.
You can acquire Knight Coins by defeating Monsters, occupying Resource Spots, or purchasing packages. There is a daily limit to the number of Knight Coins you can obtain from Monsters and Resource Spots.
You can purchase the Knight's Valiancy Sale to get the Knight's Valiancy General Chest. Open the chest to get a random General from Heraclius, Darius I, Mark Antony, Lysander, Aethelflaed, Aurelian,
Subutai
, and Skanderbeg!
Historic General Summoning Event
During the event time, players can receive Epic Historic General (Glory) from the 5th Event Package tier. Use Epic Historic General (Glory) to summon an Epic Historic General, and there is a higher chance to get the new Epic Historic General Pyrrhus!
Pyrrhus is guaranteed within each 6 summons.
Barbarians Invasion Event
During the event time, players can defeat
Barbarians
' castle on the world map and get rewards.
Players can use Barbarian King's Tokens to locate Coordinates of Barbarians Palaces and earn massive scores!
Top 5 players in Personal Score Ranking of Arctic Barbarians Invasion event can receive Castle Decoration – Fort Frost (14 Days).
Historic City Searching Event
During the event time, players have a chance to receive Subordinate City Clues from Monsters, Resource Gathering and purchasing packages. Put it in the Pool to gain a chance to get the Subordinate City Key. Use the Subordinate City Key to get a Subordinate City's Coordinates. Massive Epic and Legendary Subordinate Cities are waiting for you!
Other Events:
We also prepared other great events such as Consume to Earn Awesome Rewards (Gems and Resources), Auction House, Dwarf's Lucky Apple, Crazy Eggs, Gather Troops, King's Path, Holiday Celebration, Golem Challenge,
Cerberus
's Treasure, Resource Tax Gift, Gathering Event, Knight's Treasure, and Golden Goblin!
Battlefields Betting Event
During the event, you can bet on battlefields to win the
Betting Coin
, which can be used to redeem for items in the Betting Shop during the
Battle of Chalons
.
You can bet 20 hours before each round of Battle of Chalons Promotion Stage in Battlefield – Battlefields Betting to win Betting Coins!
If your bet is correct, you will be able to win Betting Coins according to the ratio of your bet. If your bet is incorrect, you will receive a 50% refund of your own Betting Coins.
You can get Betting Coins from:
Please note that Betting Coins will disappear at the end of Season 11 All-Star Battlefield. Please use them in time.
If you are unable to access the event, please update to the latest version.
Best regards,
Evony Team