Dear Evonians,
We plan to release the
Thanksgiving
events and packages on November 17th!
Thanksgiving Package
Package Sale with 72,000% Value!
During the event, 5 package tiers every day include Merit Jade, Glory Golden Twigs, Forge Master Certificates, Blood Crystals, Subordinate City Clue Chests, and Premium
Gear
Chest (
Lion Ring
)!
There is also a chance to receive the new
Epic Historic General Louis IX
from the 5th package tier, as well as Lv6 Barbarian King's Token, Meteoric Stones, and Lv7 Premium Gear Chest (Lion Ring)!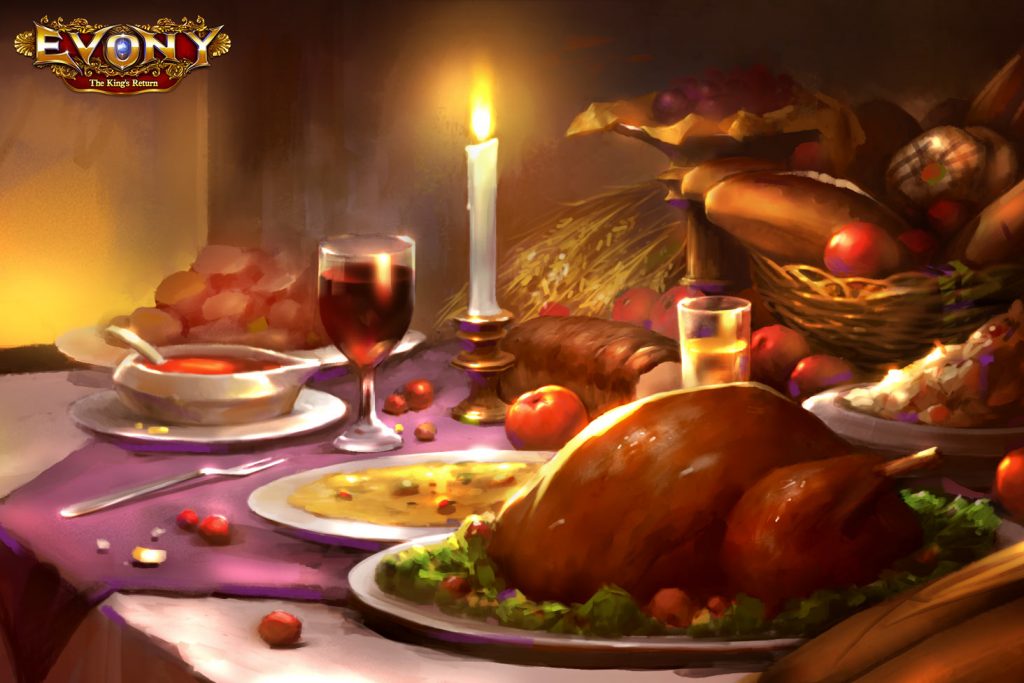 King's Party Event
During the event time, players can gain the Party Cake's experiences by purchasing basic Gems, upgrading the Party Cake's level will gain awesome gifts!
Players can gain Civilization Scroll Chest (Conquest) at Party Cake level 4.

Players can gain 30 Binding Essences and 100 Meteoric Stones at Party Cake level 5.

Players can gain 50 Binding Essences at Party Cake level 7.

Players can gain an Officer Equipment Scroll Chest (Interior) and 200 Meteoric Stones at Party Cake level 8.

Players can gain the

Epic Historic General Trivia Hecate

, Civilization Scroll Chest (Supremacy), 300 Meteoric Stones, 50 Binding Essences, and one of

Parthenon – Justice

and

Parthenon – Warfare

at Party Cake level 10.
In addition, players can also gain a certain amount of the Hephaestus Hammer at Party Cake levels 2, 3, 5, 7, and 9 respectively, which are necessary materials for improving
Historic City Spectacles
.
Parthenon Decoration Collection
The new Decoration Collection – Parthenon is here!
During the event time, players can obtain the castle decoration Parthenon – Justice or Parthenon – Warfare at Party Cake level 10 and the
Holy Saints
March Effect
from the Decoration Collection Package.
Collect corresponding Decorations in the new Collection to activate the Collection!
Glorious Attire Event
During the event, you can get Heirloom Torches from Monsters, Resource Spots, and Event Packages.
Use 5 Heirloom Torches to draw the General Skin Odyssey – Raimondo in the Glorious Attire event.
Any remaining Heirloom Torches will be converted into other items at the end of the event, so make sure to use them promptly.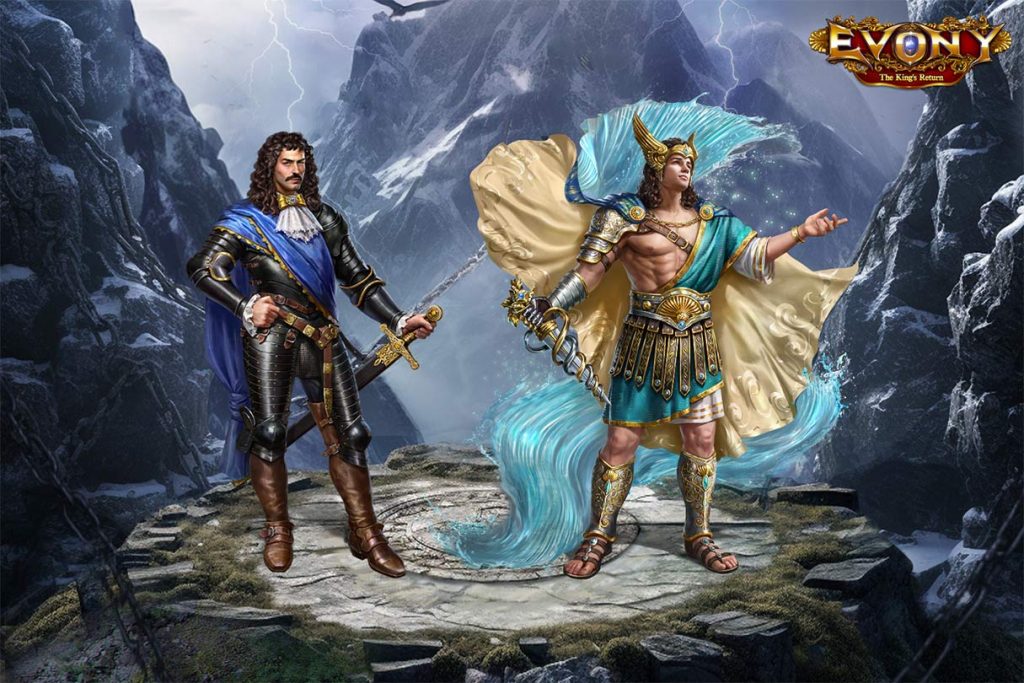 Login Rewards
Log in for 1 day and 8 days to claim 1 Triple Down Package Coupon (Event Only) respectively!
Log in for 7 days to claim the decoration Praise for Life Decoration (3 Days)!
Alchemy Shop Event Announcement
Access the event interface via the
Event Center – Alchemy Shop
. Participate to earn exclusive rewards including limited Castle Decoration, Monarch Avatar, Avatar Frame, and more!
The event will run for a total of 11 days.

During the event, accomplish daily quests to receive

Molten Ore

. Upon sale, you'll receive Alchemical Coins that can be used to redeem items in the Alchemy Shop.

Don't miss out on our exceptional value Alchemy Super Sale! The package includes a substantial amount of Alchemical Coins and other valuable items.

Each player's shop has a different daily purchase price for the Molten Ore. Players can sell Molten Ore in their own or other players' shops. The remaining Molten Ore will be reclaimed daily at the daily purchase price.

When another player sells Molten Ore in your shop, you will receive Alchemical Coins based on a percentage of the selling price.
After the event ends, all Alchemical Coins will be removed, so be sure to use them in time.
Sulis' Wishing Pool Event Announcement
During the event, you can select several desired items to place in the Wishing Pool. Use the

Bath Coin

to make a wish and receive item rewards.

Once you purchase a specified amount of basic Gems, you can claim Bath Coins from the event interface.

Each wish will guarantee a unique item reward. Once an item is obtained, it will be removed from the Wishing Pool.

Once all the rewards from the Wishing Pool have been obtained, you'll receive an additional

Sulis Treasure

.
Please note that any remaining Bath Coins will automatically disappear at the end of the event, so be sure to use them in time.
Journey to Glory Event
To participate in the Journey to Glory event, you can use Knight Coins to win rewards, including up to 2,400 Blood of Ares. These rewards are divided into 8 common categories and 4 limited categories. When you collect all 4 limited rewards, you will receive the remaining rewards automatically.
You can acquire Knight Coins by defeating Monsters, occupying Resource Spots, or purchasing packages. There is a daily limit to the number of Knight Coins you can obtain from Monsters and Resource Spots.
You can purchase the Knight's Elegance Sale to get the Knight's Elegance General Chest. Open the chest to get a random General from Trivia Hecate, Darius I, Baldwin IV, Ludwig, Douglas, Aurelian, Leonidas I, and Ban Chao!
Historic General Summoning Event
During the event time, players can receive Epic Historic General (Glory) from the 5th Event Package tier. Use Epic Historic General (Glory) to summon an Epic Historic General, and there is a higher chance of getting the Epic Historic General Louis IX!
Louis IX is guaranteed within each 6 summons.
Thunderbreeze Lake Event
During the event time, players can obtain Spiritual Beast Scales from Boss monsters and Packages. Use them to redeem the
Thunderbird
Totem. Use the Thunderbird Totem to unlock the Spiritual Beast Thunderbird! Please note that the Thunderbird Totem can only be redeemed once!
Other Events:
We also prepared other great events such as Barbarians Invasion, Historic City Searching, Gem Purchase Event, Voyage to Civilizations, Consume to Earn Awesome Rewards (Gems and Resources), Auction House, Dwarf's Lucky Apple, Crazy Eggs, Gather Troops, King's Path, Thanksgiving Feast, Challenge Lava Turtles, Cerberus's Treasure, Resource Tax Gift, Gathering Event, Knight's Treasure, and Golden Goblin!
Please update to the latest version if you cannot view the event.
Best regards,
Evony Team